Free UK delivery over £39.99
Same day dispatch
No #1 for Equine supplements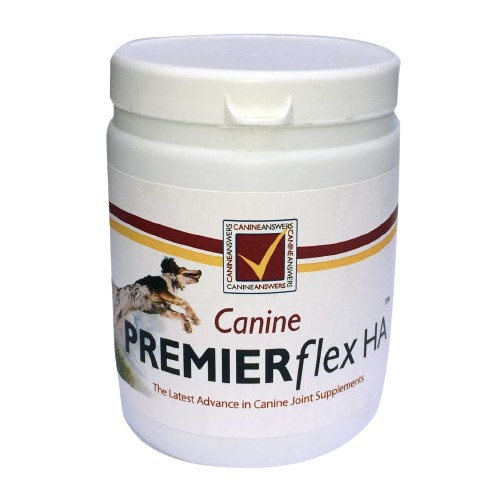 Canine

PREMIERflex HA

Canine Premier Flex HA is a very high specification dog joint supplement that has been formulated to include the very best ingredients that a dog owner can buy in a modern canine joint supplement.

Availability: In-stock now
Find out more
Why our customers swear by Canine PREMIERflex HA
Description
How it works
Compare
Canine Premier Flex HA is a dog joint supplement for all dogs.
A very high spec effective joint supplement for dogs
Includes super strength Glucosamine HCL, MSM, Chondroitin and Hyaluronic Acid (HA)
Supports the health of cartilage and synovial fluid (joint oil)
Easy to add to dog feed
Perfect for younger or middle aged dogs (use Canine Premier Flex Plus for older arthritic dogs)
Also great as a joint supplement for working dogs and active dogs as a preventative measure
Canine Premier Flex HA is a very high specification canine joint supplement that has been formulated to include the very best ingredients that a dog owner can buy in a modern canine joint supplement. Not only does it include high levels of the essential ingredients super strength Glucosamine HCL (far stronger than standard glucosamine) and MSM we have also included the very expensive ingredients Chondroitin and Hyaluronic Acid (HA) which are the latest innovations in joint supplements and work in synergy with the above. We believe Canine Premier Flex HA to be the best joint supplement for dogs that you can buy on the market today.
The formulation of Canine Premier Flex HA joint supplement for dogs is unsurpassed in the canine joint supplements market. Two very important but expensive ingredients are Chondroitin Sulpahte and Hyaluronic Acid (HA) and many canine joint supplements do not include them or contain a tiny amount (that will be ineffective) so they can be declared on the label. Canine Premier Flex HA contains both Chondroitin and HA at HIGH levels where they work on specific areas of the joints to help with flexibilty and mobility.
The best joint supplements for dogs contain the essential ingredients that support the health of cartilage and synovial fluid (joint oil). As dogs age their joints have been subjected to a substantial amount of attrition and the cartilage is often the first place that shows this wear and tear. It is therefore perfect for not only older dogs but also younger hard working dogs as it helps the dog receive the correct levels of nutrients from an early age.
How Does Premier Flex HA Work?
Glucosamine HCL
Glucosamine is an amino sugar used to build tendons, ligaments, cartilage and synovial fluid (joint oil). It stimulates production of GAG's (glucosaminoglycans) in synovial fluid to enhance lubrication. In addition to being a lubricant this fluid acts as a shock absorber cushioning the joint during exercise. Pain and stiffness occur when the fluid becomes thinner due to age, hard work or disease. After being consumed Glucosamine is absorbed through the wall of the intestine into the body. It is then attracted to the joint cells where it provides the raw material to build up synovial fluid. Premier Flex HA uses super strength Glucosamine HCL, the very best glucosamine (40% more glucosamine than standard glucosamine).
Hyaluronic Acid (HA)
Hyaluronic Acid is the latest advance in joint supplements. Hyaluronic acid (known as HA) is a component of synovial fluid whose function is to cushion and lubricate the joint. Combined with Glucosamine, Chrondroitin and MSM this group of therapeutics "..provides significant lubrication to the synovial membrane that is responsible for dissipating more than 50% of the friction within the joint" - J. Black, DVM, Senior Partner, Pioneer Equine Hospital, California. HA is very expensive and as such most companies do not include it in their joint supplement. Hyaluronic Acid is a very important ingredient in joint supplements, previously it would be injected into the joint but with a high spec joint such as Canine Premier Flex HA it can now be provided in oral form.
Chondroitin Sulphate
Most bones end in cartilage, a plastic like material which lines the joints preventing bones grating against each other. If this lining wears out the joint becomes stiff and uncomfortable. Chondroitin is chemically similar to glucosamine and is a constituent of cartilage. Chondroitin Sulphate works in synergy with glucosamine and HA to help maintain cartilage composition. Chondroitin is also very expensive and often left out of other products or added in only minute quantities.
MSM
MSM is a rich source of organic sulphur and crucial as a building block for joints, tendons, cartilage and ligaments. It is essential for all connective tissue and is often fed on its own for joint issues in dogs and humans. Combining MSM with glucosamine, chondroitin and HA again has a synergistic effect and no high spec canine joint supplement should be without MSM.
Vit C and Vit E
Two powerful anti-oxidants that play a key role in neutralising free radicals thereby helping boost the immune system. Vitamin C also helps collagen production and joint issues can occur when there is a lack of collagen in the joints.
Compare Premier Flex HA
Compare Premier Flex HA to other leading joint supplements for dogs:-
PRODUCT
High Levels of Glucosamine,
Chondroitin AND Hyaluronic Acid
cost per day
Canine Premier Flex HA
Yes
31p
Yumove
No
65p
Synoquin
No
45p
Cosequin
No
43p
Yes they do - just ask our happy customers! Our dog supplements are produced in association with leading vets and nutritionists to provide the best possible answer for your dog.
Can supplements help arthritis in dogs?
Joint supplements, such as glucosamine and chondroitin, help to alleviate symptoms of arthritis in dogs by reducing inflammation and promoting cartilage repair. A dog joint supplement is often prescribed for dogs with arthritis, or for those with a high chance of developing it.
At what age should I give my dog joint supplements?
Joint supplements can be given to dogs at any age, but they are typically recommended for older dogs or those with joint problems.
Product Reviews
Customer reviews of Canine PREMIERflex HA
I started using this last year as our collie x terrier was starting to get stiff and hobble after a bigger walk/bigger run in the woods. Since using this product he hasn't shown any sign of stiffness and has enjoyed plenty of big walks adventures following scents in the woods. We're so happy we didn't have to cut down his walks yet.
I started using this for my whippet boy who has had bilateral TTO surgeries for ruptured cruciate ligaments and had started to look a little stiff behind. He has been having it for 2 weeks and the difference in him is astounding, back to the being bouncy and lively boy he was a couple of years ago. Can't recommend this amazing stuff enough!!
Please log in to leave a review.