Free UK delivery over £39.99
Same day dispatch
No #1 for Equine supplements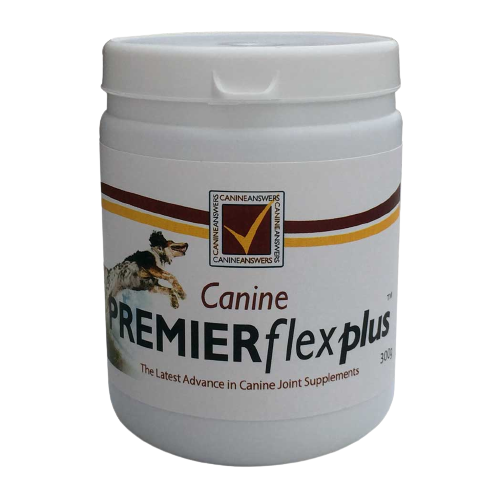 Canine
PREMIER
flex plus
Canine PREMIER FLEX Plus is our highest spec dog joint supplement, it has been formulated to be the strongest canine joint supplement on the market. If you looking for the best canine joint supplement Premier Flex Plus is the answer.
Availability: In-stock now
Find out more
Why our customers swear by Canine PREMIERflex plus
Description
How it works
Compare
PREMIER FLEX Plus is our highest spec dog joint supplement, it has been formulated to include the very best ingredients that a dog owner can buy in a modern canine joint supplement.
Contains vital ingredients to produce a very high spec joint supplement for dogs
Includes super strength Glucosamine HCL, MSM, Chondroitin, Hyaluronic Acid (HA) and the powerful natural anti-inflammatory Devils Claw Extract
Supports the health of cartilage and synovial fluid (joint oil)
Easy to add to dog feed
Formulated for older dogs that are struggling after walks, getting into car, getting up stairs etc
Strongest canine joint supplement on the market
Not only does it include high levels of the essential ingredients super strength Glucosamine HCL (far stronger than standard glucosamine) and MSM we have also included the very expensive ingredients Chondroitin and Hyaluronic Acid (HA) which are the latest innovations in joint supplements and work in synergy with the above.
PREMIER FLEX Plus contains exactly the same levels of Glucosamine HCL, Chondroitin Sulphate, MSM and Hyaluronic acid (HA) as Canine Premier Flex HA but Canine Premier Flex Plus also contains high levels of Devils Claw Extract, a natural ingredient which supports the body's own natural anti-inflammatory response.
The best joint supplements for dogs work by helping cartilage composition and the production of synovial fluid over a continuous period of time. Most dog joint supplements do not contain high levels of Glucosamine, Chondroitin, HA and MSM PLUS a high level of Devils Claw. Premier Flex Plus is much stronger than the types of canine joint supplements that are available in shops and it is on a different level to herbal only products that are based on cold liver oil, green lipped mussel extract or turmeric.
How Does Canine Premier Flex Plus Work?
Glucosamine HCL
Glucosamine is an amino sugar used to build tendons, ligaments, cartilage and synovial fluid (joint oil). It stimulates production of GAG's (glucosaminoglycans) in synovial fluid to enhance lubrication. In addition to being a lubricant this fluid acts as a shock absorber cushioning the joint during exercise. Pain and stiffness occur when the fluid becomes thinner due to age, hard work or disease. After being consumed Glucosamine is absorbed through the wall of the intestine into the body. It is then attracted to the joint cells where it provides the raw material to build up synovial fluid. Premier Flex HA uses super strength Glucosamine HCL, the very best glucosamine (40% more glucosamine than standard glucosamine).
Hyaluronic Acid (HA)
Hyaluronic Acid is the latest advance in joint supplements. Hyaluronic acid (known as HA) is a component of synovial fluid whose function is to cushion and lubricate the joint. Combined with Glucosamine, Chrondroitin and MSM this group of nutraceuticals "..provides significant lubrication to the synovial membrane that is responsible for dissipating more than 50% of the friction within the joint" - J. Black, DVM, Senior Partner, Pioneer Equine Hospital, California. HA is very expensive and as such most companies do not include it in their joint supplement. Hyaluronic Acid is a very important ingredient in joint supplements, previously it would be injected into the joint but with a high spec joint such as Premier Flex Plus it can now be provided in oral form.
Chondroitin Sulphate
Most bones end in cartilage, a plastic like material which lines the joints preventing bones grating against each other. If this lining wears out the joint becomes stiff and uncomfortable. Chondroitin is chemically similar to glucosamine and is a constituent of cartilage. Chondroitin sulphate works in synergy with glucosamine and HA to help maintain cartilage composition. Chondroitin is also very expensive and often left out of other products or added in only minute quantities.
MSM
MSM is a rich source of organic sulphur and crucial as a building block for joints, tendons, cartilage and ligaments. It is essential for all connective tissue and is often fed on its own in dogs and humans. Combining MSM with glucosamine, chondroitin and HA again has a synergistic effect and no high spec canine joint supplement should be without MSM.
Vit C and Vit E
Two powerful anti-oxidants that play a key role in neutralising free radicals thereby helping boost the immune system. Vitamin C also helps collagen production and joint problems can occur when there is a lack of collagen in the joints.
Devils Claw
Premier Flex Plus contains a high level of Devils Claw Extract which is a powerful ingredient that supports the body's anti-inflammatory response. Using an extract of devils claw ensures the correct level of harpagoside which is the active ingredient in Devils Claw. Harpagoside is so powerful it is now prohibited in British Horse racing as its effects have been comparable to normal pain killers. This high level of Devils Claw makes Canine Premier Flex Plus a very strong joint supplement for dogs and is not recommended for younger dogs that do not have diagnosed issues.
Compare Premier Flex Plus
Compare Premier Flex Plus to other leading joint supplements for dogs:-
PRODUCT
High Levels of Glucosamine,
Chondroitin AND Hyaluronic Acid
cost per day
Canine Premier Flex Plus
Yes
39p
Yumove Max
No
95p
Synoquin
No
50p
Cosequin
No
56p
PREMIER FLEX Plus is fast acting and results are normally seen in a matter of days.
Yes they do - just ask our happy customers! Our dog supplements are produced in association with leading vets and nutritionists to provide the best possible answer for your dog.
Can supplements help arthritis in dogs?
Joint supplements, such as glucosamine and chondroitin, help to alleviate symptoms of arthritis in dogs by reducing inflammation and promoting cartilage repair. A dog joint supplement is often prescribed for dogs with arthritis, or for those with a high chance of developing it.
At what age should I give my dog joint supplements?
Joint supplements can be given to dogs at any age, but they are typically recommended for older dogs or those with joint problems.
Product Reviews
Customer reviews of Canine PREMIERflex plus
Showing
1
-
3
of
22 reviews
I was recommended to try Canine Premier Flex Plus by my friend almost two and a half years ago. She bought it for her horse. I gave this product a 5 star review then after only three tubs! My senior dog Jack was twelve at the time and started losing strength in his back legs so I gave it a go. Your powder has been amazing! Jack was transformed and rather than limping and falling over, it gave him a new lease of life. I cannot thank you enough for the change it made to him. Sadly due to old age I had to make the decision to let him go yesterday but Canine Premier Flex Plus gave me more time with him so again, thank you so much. I will continue to recommend this to everyone!
This is the stuff of dreams for dogs with any joint/mobility issues. I have a larger dog with a breed prone to hip dysplasia and other joint issues. She is nearly 9 years old with stiffness and pain in her right hip. The vet asked me if I give any supplements and I told her I use Premier Flex. My vet is also a personal friend whom I know through my mothers horse yard... she was very happy when I mentioned Premier Flex as it is also a popular product for the horses (not the canine version obviously). Since my dog has been taking Premier Flex Plus, her pain levels have definitely lowered and her limping has lessened. She thinks she is a puppy once again and runs around care free. The same is said about the horses on the equine supplement. Overall, Premier Flex Plus has been an absolute godsend for my dog, the price is amazing and the product itself is like gold dust. If you have a dog in any mobility pain, try it. Stick with it. I know the first 2 weeks can use a lot of product but definitely DO stick to it and the difference you will see in your canine is unbelievable. As another reviewer has mentioned, where is the human version ;) Thank you Equine Answers!! My 9 year old 'puppy' loves you :)
After my terrier started to get arthritis in her joints my vets advised me to put her on yumove, Bracken hated taking the large tablets and it made no difference, her joints health went downhill very quickly, she was sleeping all day, very sore when moving and I wondered if it was fair to keep her going. I saw your product after starting my horse on the equine version and thought it was worth a try. Firstly bracken loves the taste, we dampen it down with a bit of warm water and she can be a bit fussy! I have seen such an unbelievable difference in her, she is back pottering about all over the place, interacting with the other dogs and she seems bright and engaged again. I can not believe the difference in her and would highly recommend the Canine Premierflex Plus. A miracle powder!
Please log in to leave a review.