Free UK delivery over £39.99
Same day dispatch
No #1 for Equine supplements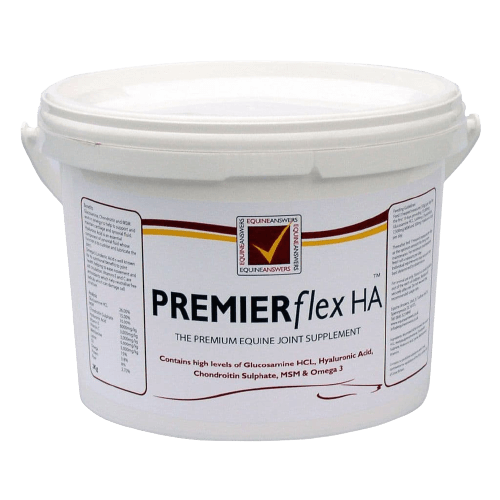 Equine

PREMIERflex HA

Premierflex HA is a very high specification equine joint supplement that has been formulated to include the very best ingredients that a horse owner can buy in a modern equine joint supplement.

Availability: In-stock now

Recommended by

Just a quick email to say how much I love your Premier Flex HA. I now have all my riding club friends ordering it. I noticed a difference in my horse, after two weeks she was springing over the fences and our dressage scores improved. I cannot recommend your products enough. Thank you so much for your fab products!!
All testimonials
Find out more
Why our customers swear by Equine PREMIERflex HA
Description
How it works
Compare
Ingredients
PREMIERflex HA is a horse joint supplement for healthy joints.
Contains ingredients vital for heathy horse joints
Includes super strength Glucosamine HCL, MSM, Omega 3 oils, Chondroitin and Hyaluronic Acid (HA)
Supports the health of cartilage and synovial fluid (joint oil)
Easy to add to horse feed
Great for ageing horses, working horses or horses who compete
Premier Flex HA is a very high specification equine joint supplement that has been formulated to include the very best ingredients that a horse owner can buy in a modern equine joint supplement. Not only does it include high levels of the essential ingredients super strength Glucosamine HCL (far stronger than standard glucosamine), MSM and Omega 3 oils we have also included the very expensive ingredients Chondroitin and Hyaluronic Acid (HA) which are the latest innovations in joint supplements and work in synergy with the above. We believe Premier Flex HA to be the best joint supplement for horses that you can buy on the market today.
The formulation of Premier Flex HA joint supplement for horses is unsurpassed in the equine joint supplements market. Premier Flex HA includes the highest level of HA available in equine joint supplements (more than "Cortaflex fortified with Hyaluronic Acid" and even more than "Cortaflex HA" their highest spec brand!)
Premier Flex HA also includes a high level of Chondroitin Sulphate, in fact Premier Flex HA contains 100 times as much Chondroitin per day as NAF 5 Star SuperFlex!! (Premier Flex HA at 1330mg, SuperFlex at 13mg). Premier Flex HA also includes MSM and high levels of Omega 3 and no other joint supplement for horses contains this array and level of ingredients.
The best joint supplements for horses contain the essential ingredients that are thought to support the health of cartilage and synovial fluid (joint oil). As horses age their joints have been subjected to a substantial amount of attrition and the cartilage is often the first place that shows this wear and tear. It is also an excellent supplement to feed for younger hard working horses as it helps the horse receive the correct levels of nutrients from an early age.
Premier Flex HA contains MSM which is a prohibited substance in British Horse Racing, 24 hour withdrawal needed.
---
We also sell 1Kg tubs of Premier Flex HA directly to customers in Europe. The extra cost in postage is £4.95, this will be added when your order is processed.
For orders outside Europe please email for delivery costs
How Does Premier Flex HA Work?
Glucosamine HCL
Glucosamine is an amino sugar used to build tendons, ligaments, cartilage and synovial fluid (joint oil). It stimulates production of GAG's (glucosaminoglycans) in synovial fluid to enhance lubrication. In addition to being a lubricant this fluid acts as a shock absorber cushioning the joint during exercise. Pain and stiffness occur when the fluid becomes thinner due to age, hard work or disease. After being consumed Glucosamine is absorbed through the wall of the intestine into the body. It is then attracted to the joint cells where it provides the raw material to build up synovial fluid. Premier Flex HA uses super strength Glucosamine HCL, the very best glucosamine (40% more glucosamine than standard glucosamine).
Hyaluronic Acid (HA)
Hyaluronic Acid is the latest advance in joint supplements. Hyaluronic acid (known as HA) is a component of synovial fluid whose function is to cushion and lubricate the joint. Combined with Glucosamine, Chrondroitin and MSM this group of therapeutics "..provides significant lubrication to the synovial membrane that is responsible for dissipating more than 50% of the friction within the joint" - J. Black, DVM, Senior Partner, Pioneer Equine Hospital, California. HA is very expensive and as such most companies do not include it in their joint supplement. Hyaluronic Acid is a very important ingredient in joint supplements, previously it would be injected into the joint but with a high spec joint such as Premier Flex HA it can now be provided in oral form.
Chondroitin Sulphate
Most bones end in cartilage, a plastic like material which lines the joints preventing bones grating against each other. If this lining wears out the joint becomes stiff and uncomfortable. Chondroitin is chemically similar to glucosamine and is a constituent of cartilage. Chondroitin sulphate works in synergy with glucosamine and HA to help maintain cartilage composition. Chondroitin is also very expensive and often left out of other products or added in only minute quantities.
MSM
MSM is a rich source of organic sulphur and crucial as a building block for joints, tendons, cartilage and ligaments. It is essential for all connective tissue and is often fed on its own for joint issues in horses and humans. Combining MSM with glucosamine, chondroitin and HA again has a synergistic effect and no high spec equine joint supplement should be without MSM.
Omega 3
Omega 3 is present in Premier Flex HA in high amounts and this is derived from micronized linseed. Through its digestion the source is broken down into EPA and DHA Omega 3 fatty acids. These are very healthy fatty acids and help lubricate joints and facilitate the movement of synovial fluid in the joint.
Methionine and Lysine
These two ingredients are both amino acids that help with the natural production of MSM.
Vit C and Vit E
Two powerful anti-oxidants that play a key role in neutralising free radicals thereby helping boost the immune system. Vitamin C also helps collagen production and joint issues can occur when there is a lack of collagen in the joints.
Compare Premier Flex HA
Compare Premier Flex HA to other leading joint supplements for horses:-
High Levels of Glucosamine,
Chondroitin AND Hyaluronic Acid
cost per day
Premier Flex HA
Yes
33p
Cortaflex
No
99p
NAF 5 Star SuperFlex
No
57p
Equi Flex
No
95p
Independent study of Premier Flex HA
Premier Flex HA was independently tested in the UK, click here to see the results of the trial.
Premier Flex HA ingredients
Levels of main ingredients at initial feeding amount:
| Analysis | |
| --- | --- |
| Glucosamine HCL | 13,000mg |
| Chondroitin Sulphate | 5,000mg |
| MSM | 10,000mg |
| Hyaluronic Acid (HA) | 300mg |
How long will it take for Premier Flex HA to work?
You may see a difference in your horse in the first 7 days but it takes about a month for the Premier Flex HA ingredients to be fully absorbed in the system and working to their optimum.
How does Premier Flex HA compare to other Joint Supplements on the market?
We believe that Premier Flex HA is the highest spec and best joint supplement for horses. But because we manufacture Premier Flex HA and sell direct to the customer it is cheaper than well known inferior spec tack shop brands.
Are horse supplements necessary, or can horses get all the nutrients they need from their feed?
Supplements are a valuable tool for maintaining a horse's overall health and well-being, especially when used in combination with a well-balanced diet and regular veterinary care.
Do horse supplements work?
Yes they do - just ask our happy customers! Our horse supplements are produced in association with leading vets and nutritionists to provide the best possible answer for your horse.
Customer comments
Why our customers return again and again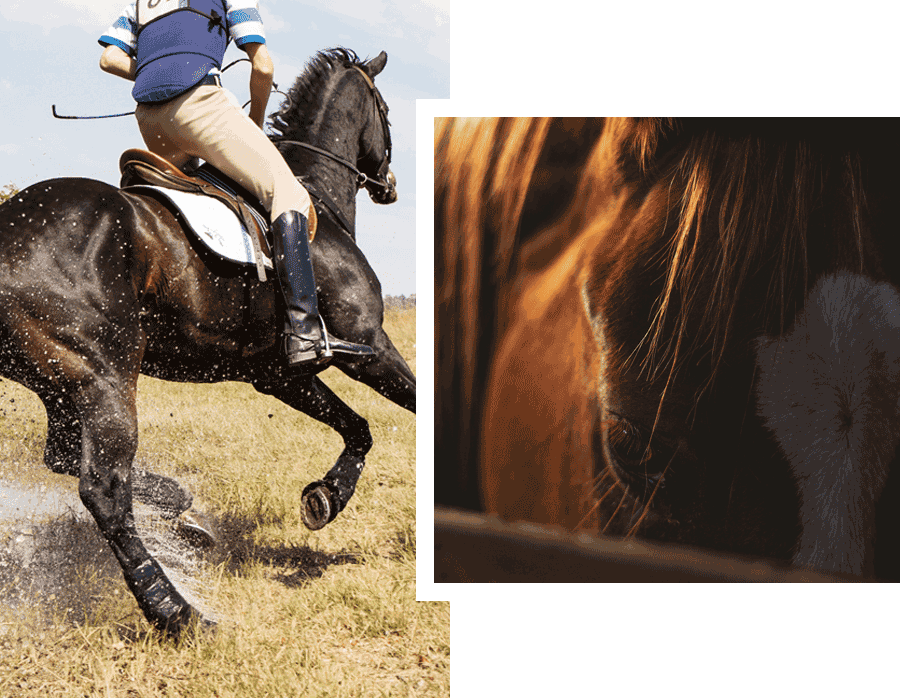 Thought I would drop a quick note to say how impressed I am with the results of your Premier Flex. My 21 year old mare was feeling stiff and not wanting to canter (very unusual) despite being on NAF Superflex for approx. 3 years. I decided to try Premier Flex HA after doing a few hours of research on the internet. My old lady has now got her old sparkle back!
Just a quick email to say how much I love your Premier Flex HA. I now have all my riding club friends ordering it. I noticed a difference in my horse, after two weeks she was springing over the fences and our dressage scores improved. I cannot recommend your products enough. Thank you so much for your fab products!!
After just under 2 months of using Premier Flex HA joint supplement I have noticed that Prince is certainly more comfortable. He hasn't been ridden yet but the signs are positive and I am keen to continue using Premier Flex HA ..... I am very pleased with the results and the delivery of the product was excellent very prompt.
My horse has always has been stiff in his joints and more recently got worse due to his age ..... his shoes have been removed and he is no longer ridden. He seems to move more smoothly and certainly isn't as stiff since being on Premier Flex HA joint supplement, and I have noticed in particular when he is being turned out in the morning walks more freely, I will therefore continue to use Premier Flex as it is has made a huge difference to my horse.
I put Charlie on Premier Flex HA joint supplement having previously used Cortaflex HA. Not only was Premier Flex HA cheaper but he seemed to be even better on it. My farrier even commented on how more flexible my horse was in his back end having previously been problematic when shoeing. .... got to say Premier Flex HA is the best joint supplement for horses I have ever used!
Product Reviews
Customer reviews of Equine PREMIERflex HA
Showing
1
-
3
of
36 reviews
I have been using Premier Flex HA for a while now, nearly 2 years. My gelding has a long list of health issues and amongst the list he is arthritic. He has angular arthritic stifles, hocks, Boney changes in his spine plus an undiagnosed joint instability of the shoulder AND muscle disease. I had been looking for and trailing different joint supplements for a while before I found Equine Answers, my geldings diet is complex there's a lot i have to avoid due to sensitivity so my Nutritionist checked it over and was very happy at the amounts in the supplement. The difference in him since being on Premier Flex HA is amazing, he comes out the stable like a spring chicken everyday. A year ago we was doing a 2nd round of stifle rehab as our last option, there was nothing else we could do. This month we qualified for Pet Plan Area Festivals, what a dream come true, I was just happy to be riding him but he has gone from strength to strength and I feel Premier Flex HA has a big part to play in enabling him to feel good whilst performing at his best when nothing else I tried seem to benefit him at all with his stiff joints. Thankyou, Rebecca ( The Cob Diaries )
I'm farrier, naturel trimmer more specifically for 17 years . I can observe so much results with the premier flex HA. I advise it a lot to my customers. Horses are moving better and the way they wear their feet change for the best. For tendons, ligaments and I always advise it for navicular condition. So definitely, can't say that it's placebo, it doesn't exist for animals. I have tried and heard about other products that really don't work as good as the premier flex HA. Long life to your company!!! "
I have been using PremierFlex HA for a couple of months now and have noticed a definite improvement in how my mare is going. She's got her bounce back :-) I also have to comment on how super quick the company is to process and dispatch orders. Great product, great service and a good price - what more could you want!
Please log in to leave a review.