Free UK delivery over £39.99
Same day dispatch
No #1 for Equine supplements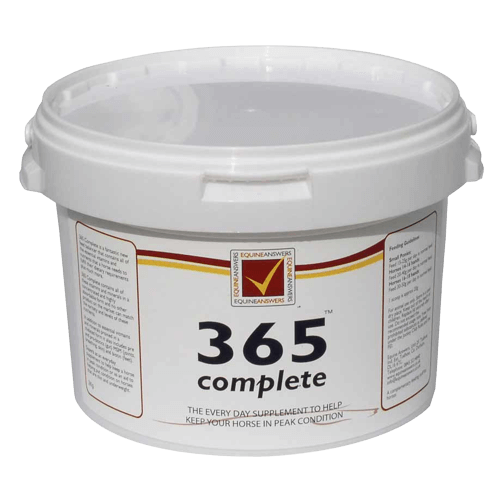 365 complete
365 Complete Feed Balancer is Equine Answers revolutionary new feed balancer product combining all the nutrients and minerals your horse needs into one product.
Availability: In-stock now
Recommended by

Find out more
Why our customers swear by 365 Complete
Description
How it works
Compare
Ingredients
365 Complete Feed Balancer has all the nutrients and minerals your horse needs
365 Complete Feed Balancer is Equine Answers revolutionary new feed balancer product combining all the nutrients and minerals your horse needs into one product. 365 Complete also includes true pro-biotics and prebiotics to help keep gut health at its optimum and helps in the absorption of the nutrients in the feed. Use 365 Complete as a daily supplement to keep your horse in peak condition.
Keep your horse in peak condition
We believe 365 Complete to be the best feed balancer for horses. It is a superb everyday feed balancer being 5 times more concentrated than leading brands such as Blue Chip and Top Spec. All of the vitamins and minerals are provided in the most absorbable form making them far more effective. 365 Complete has taken feed balancers to the next level and this form of vitamin and mineral nutrition really will have your horse in peak condition.
Best feed balancer on the market?
Grazing, hay/haylage and your hard feed sometimes lack certain vitamins and minerals that your horse needs and 365 Complete feed balancer plugs that gap. For every horse owner that wants the best vitamin and mineral supplement for horses this really is a fantastic high spec feed balancer and has the most comprehensive spec of feed balancers in the equine market.
365 Complete feed balancer includes MSM to help joints, biotin to help hoof structure, pre and pro- biotics to aid a healthy gut and all the major minerals and vitamins your horse needs to stay healthy.
365 Complete is a revolutionary NON heating feed balancer.
In formulating 365 Complete we have included the most advanced range of minerals in chelated form, this makes them much more bio available than ordinary rock based minerals. Previously they were only available in human nutritional products but now we have put them at the forefront of modern equine nutrition.
It is important to stress that 365 Complete is an all round feed balancer that has many uses. It can be used to add condition if fed at double the amount initially but for horses that are up to weight feeding the normal maintenance amount of 365 Complete helps keep them in perfect condition.
Ways of using 365 Complete
We have discovered that 365 Complete can be used in different ways depending on your horse's needs. Below are some of the uses for 365 Complete:-
Hacking/General Riding - Used as a feed balancer 365 Complete provides everything your horse needs in his/her diet to keep fit and healthy. No other good feed balancer for horses contains the range of ingredients that are present in 365 Complete. Email us for the spec!
Showing - A super feed balancer / conditioner, more advanced than other vitamin and mineral supplements for horses due to the range and level of ingredients and how they are provided in this supplement. Fabulous for conditioning and producing a fabulous coat and topline. Our present customers include competitors who are regularly placed at the Great Yorkshire Show and HOYS. One such customer who had been using conditioning cubes and a leading feed balancer, described 365 Complete as "the best conditioning supplement they had used in years".
Showjumping/Eventing/Dressage - Feed 365 Complete at normal level to help maintain condition and give your horse the vitamins and minerals he or she needs to produce their best with this feed balancer.
Endurance - Superb feed balancer for providing all the nutrients and vitamins necessary to allow a horse to compete over long distances. Helps the horse have a "little extra" and with stamina being so important finding the right supplement for endurance horses is crucial and 365 Complete feed balancer is equine nutrition at its best.
Underweight Horses - The very best you can buy in equine feed balancers to help put weight on a horse rapidly. Used at double the initial amount you will see the difference in 2 weeks and in a month your horse should be looking like a different animal. Much stronger than well known feed balancer brands and conditioning cubes for horses.
Veterans - Keep condition on your senior friend all throughout the year. 365 Complete aids absorption of your existing horse feed so that the feed is better utilised. The spec of 365 Complete is superb and unsurpassed as a good feed balancer for veteran horses
Please email us for a full spec on 365 Complete, it is extensive!

Benefits:
Overall condition
Complete vitamin and mineral provision
Gut health
Hoof health
Coat appearance
Performance
Joint Health
365 Complete in practice
Uoeri is a KWPN registered Dutch Warmblood who was imported into the UK as a potential showjumper but started his career in dressage. He lacked topline and overall condition that was crucial to him to complete at a high level. Below is a photo of Uoeri before supplementation with 365 Complete.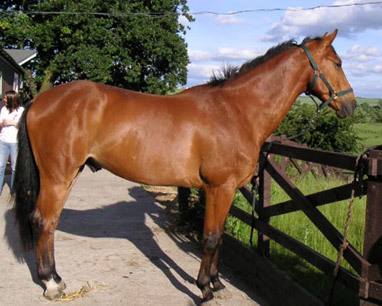 Below is Ueori after supplementation with 365 Complete, he has put on condition throughout , topline has improved and he is getting all of the essential vitamins, minerals and pre and pro-biotics he needs for healthy growth and for the work he will have to do in training and competition.
Uoeri went on to finish 6th in his showjumping class the Horse of the Year Show in 2012.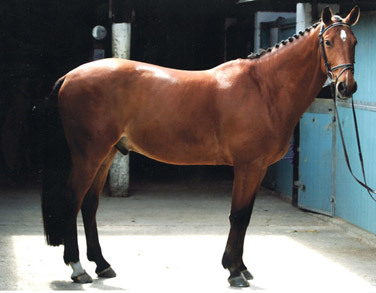 Compare 365 Complete to other leading balancers for horses:-
| | Full Range of Chelated Minerals | cost per day |
| --- | --- | --- |
| 365 Complete | Yes | 38p |
| Top Spec Comprehensive | No | 99p |
| Blue Chip Original | Yes | £1.35 |
| NAF 5 Star Optimum | No | 80p |
Composition: Dicalcium Phosphate, Micronized Linseed, Calcium Carbonate, MSM, Linseed Oil, Magnesium AAC, Chrome Yeast, Vitamins, Minerals, Trace Elements, Organically Bound Minerals, Saccharomyces Cerivisae, Inulin, Fructooligosaccharide Prebiotics, Pro-biotics, Brewers Yeast.
Do horse supplements work?
Yes they do - just ask our happy customers! Our horse supplements are produced in association with leading vets and nutritionists to provide the best possible answer for your horse.
Customer comments
Why our customers return again and again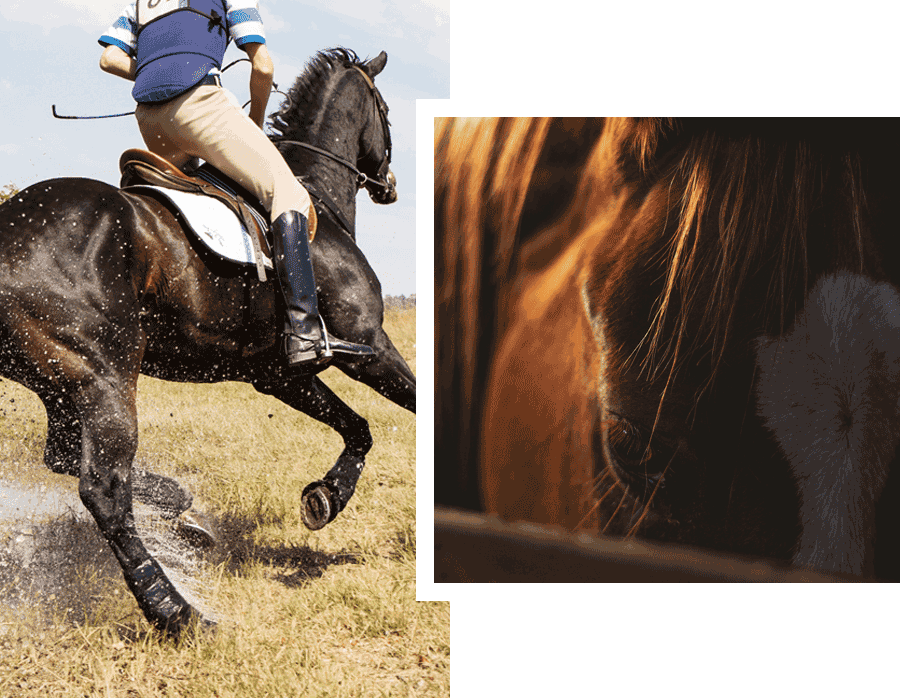 Why oh why didn't I find this product years ago!!! Please feel proud of yourselves as a company for such a fantastic product. My TB x ID youngster is positively blooming - his coat is gleaming, gaining top line & is overall looking brill. My cob mare gets fat on fresh air so has always been on a restricted diet. I've stopped her biotin & cider vinegar & started on the 365 instead added to a token feed of chaff - absolutely no weight gain but she looks so much better & healthier on it. She's a bay coloured & her white bits are shining!!!!!! Shiny white says it all I feel lol. Thank you, Sharon
Hi, I just wanted to say that I am absolutely delighted with the 365 Complete, my mare has only been on it for 5 days and already her coat is much shinier and softer, she's showing her true colour .... and overall she is a much happier horse! I can't wait to see the improvement in her feet too! Many thanks to Equine Answers
I have seen fantastic results on a clients tb gelding... he has muscle tone and top line and condition appearing on him from the hindquarters working its way toward the head.... I am noticing the difference weekly ..... oh and he is happy and blooming, fab coat!
hi ,I have a major problem in that I have run out of the product ordered 365 complete and my horse has not had the product for a few days and has thus returned to the problems he had before ie. tummy problems with loose stools grumpy unhappy horse if poss could you please send order asap as horse and owner desperate to be back on product, many thanks from desperate owner with unhappy horse.
Just to let you know how glad I am for buying your product. I emailed for advice first because I wasn't sure if it would be suitable for my laminitic pony, which you said it'll be fine for him. At the end of winter he was looking old and moth-eaten so I bought a tub and he absolutely loves the taste and has put on condition without putting on the weight, he looks 10 years younger and seems happier overall. Well done and thanks!
I've noticed a big difference since starting my horse on 365 Complete. I have noticed a difference in my horse Rikki's coat and hoof condition as well as a marked change in his muscle development. It is a fantastic product at an excellent price, I would highly recommend it.
In a world where people are quick to complain. I wish to complement Equine Answers on how your product 365 Complete has transformed my horse. I have been using it for the last 5 months. The change in my horses condition has been so dramatic. I really only noticed it when a fellow livery returned after being away for a month and stated how well my horse looked. Looking at her now and i can see from old photos. Her tail is shiney and glossy she has kept condition on whilst being on restricted grazing due to a tendon injury. It has always been hard to keep condition on her and had previously resorted to giving her a condtioning feed (which cost a lot and often made her exitable). Now she is able to have low energy feed and keep condition. Your product is reasonably priced which is easier on my pocket. I have recommended this product to other liveries. They only have to look at my horse to see the results.
Hi just to say that my horse has been on 365 complete for nearly two weeks and I am already seeing a difference in his condition.
Have to say I'm very pleased with the 365 Complete. Alfie certainly looks in good health and has had none of the previous issues with the change over to 'hard feed'. His coat, hooves and general appearance are improved and people have said how good he looks. My instructor has also commented on his suppleness, he's always tended to be a bit stiff behind! So I certainly intend carrying on with '365' for the foreseeable future. Superb product!
Thank you for the 365 Complete. My horse has really picked up now. I started feeding the maximum amount and then dropped it back to the maintenance level when he started to pick up, I would definitely use 365 Complete again in the future - he's a different horse now.
I have been using the 365 Complete on my Andalusian stallion who is always a bit leaner & lacking in top line than I would like. Since being on the 365 he has improved & also has a super coat as well as being a bit more "chilled out". I am so pleased that I am now giving it to a Hanoverian broodmare and 2 weanling foals.
Would just like to take this opportunity to let you know what a wonderful product 365 complete is. My horse has been on it for about two months now and his coat is fantastic. my farrier asked me what i was feeding him as his feet were in such good condition - it's all thanks to 365 Complete, I would not use anything else now!!
Product Reviews
Customer reviews of 365 Complete
Showing
1
-
3
of
24 reviews
I have been using this for years, my 2 ridden horses are both 20, my old boy is 30 and his field companion is 15,they are all healthy and fit, last year I thought i would try a top balancer pellet that has glossy brochures, my old lad wouldn't keep weight on and I really didn't think he would still be here but with 365,linseed meal, sugar beet, grass pellets and a senior mix he is almost too fat!!! They also all have Premier Flex Plus and all still zoom about the field, i will never use anything else again
Definitely recommended, I had tried several balancers at great expense and my horse wouldn't eat them. After lots of research I have my two boys (7&17) on this daily and have been using it for over a year. They are currently wintering out in snowy Scotland with thick shiny coats, gleaming manes, bright eyes and always finish breakfast. Brilliant products, excellent customer service and easy to access advice via prompt email response.
I was a little sceptical about feeding a balancer, I thought if my horse was getting good quality feed and forage he would get all that was required. I was also put off by the vast and bewildering number of products available, all claiming to be essential and the best. When I looked more closely at what was in these products, I found many had nasties I wanted to avoid. I eventually found 365 Complete which changed my opinion as I can see the difference in my 20 year old boy who is gleaming, even though he has a thick winter coat. His weight and condition score are perfect, his hooves are strong and he is a well and happy boy which is exactly what I want. I have now become a regular customer and really appreciate the speedy delivery and customer service which is exemplary! I highly recommend 365 Complete.
Please log in to leave a review.