Free UK delivery over £39.99
Same day dispatch
No #1 for Equine supplements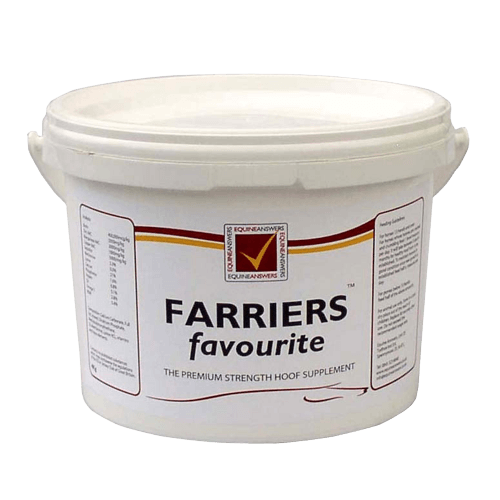 FARRIERS favourite
An advanced formulation that we believe to the best hoof supplement on the market. There is a well known saying in the horse world, "no foot, no horse" and this is undoubtedly true.
Availability: In-stock now
Recommended by

Find out more
Why our customers swear by Farriers Favourite
Description
Compare
Ingredients
An advanced formulation that we believe to the best hoof supplement on the market. There is a well known saying in the horse world, "no foot, no horse" and this is undoubtedly true. If you have experienced the problems of horses failing to hold shoes, dealing with rising cracks, brittle feet coming off in pieces, the farrier being unable to get a shoe on your horse then you will understand the problem.
Horses with poor horn quality often suffer from a lack of the basic hoof building ingredients. Hoof horn is made up mainly of protein materials strengthened by the deposition of Keratin. Biotin helps in the production of Keratin so is a vital ingredient in any hoof supplement but Biotin alone is not enough to help achieve the maximum effect of a quality hoof supplement.
Providing the building blocks of strong hoof horn
Methionine and Lysine are essential ingredients in hoof supplements because as amino acids they help the horse by providing the building blocks of strong hoof horn. If they are in short supply they inhibit the metabolism of protein therefore affecting horn quality.
MSM is present in keratin, a necessary substance for healthy hooves. People using MSM often report their finger nails growing faster and harder and the same is experienced with horses on MSM.
Zinc, copper and manganese are minerals that play a part in the formation of keratin and collagen which are vital for sustaining healthy skin, hair, cartilage, bone and hooves. These minerals are provided in Farriers Favourite in organic form so that they are more easily absorbed by the horse. Zinc in particular has a positive effect in maintaining hoof quality.
In our belief of using natural ingredients wherever possible, Farriers Favourite hoof supplement contains cooked whole linseed which is one of the best forms of naturally occurring biotin. Often fantastic coat condition will be visible when using Farriers Favourite because the coat is made up of similar proteins to those in the hoof.
Compare Farriers Favourite
Compare the costs of Farriers Favourite hoof supplement against other leading brands:
| | cost per day |
| --- | --- |
| Farriers Formula | £1.99 |
| Formula 4 Feet | £1.09 |
| NAF Pro Feet | 87p |
| FARRIERS Favourite | 45p |
| | |
Farriers Favourite Ingredients
| Analysis | |
| --- | --- |
| Biotin | 400,000mcg/kg |
| Zinc (zinc bioplex) | 3,000mg/kg |
| Manganese (manganese bioplex) | 3,000mg/kg |
| Copper (copper bioplex) | 1,000mg/kg |
| Methionine | 5.3% |
| Lysine | 0.5% |
| Calcium | 21.0% |
| Phosphorus | 1.6% |
| Protein | 6.8% |
| Oil | 5.1% |
| Linolenic acid (Omega 3) | 2.8% |
| MSM (Methylsulphonylmethane) | 5.4% |
Do horse supplements work?
Yes they do - just ask our happy customers! Our horse supplements are produced in association with leading vets and nutritionists to provide the best possible answer for your horse.
Customer comments
Why our customers return again and again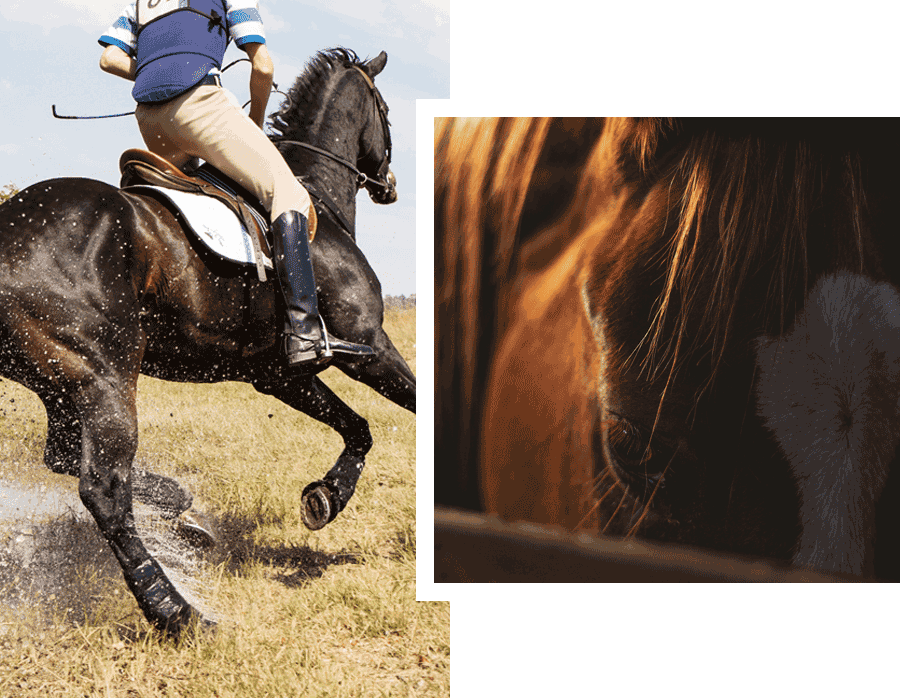 I purchased Farriers Favourite at the transition for my Welsh D to go barefoot. He had been shod on the front feet for 8 years, so with advice from my equine podiatrist to obviously take things easy, I was expecting a 12 month plus period of riding in the sand school with very little roadwork. I wanted to give biotin and decided upon Farriers Favourite because of the comprehensive list of additional ingredients. I have truly been astounded, and so has my podiatrist, at the speed with which my horse has made this change. His soles hardened super fast and the quality of the new growth has been far in excess of what he originally had . . . I am in no doubt at all that Farriers Favourite has had a significant part to play . . . After 2 foot trims I have been given the excellent news that my trims can be extended to every 3 months as his feet are keeping in shape so well. I am now riding out on hacks for up to 2.5 hours on a mixture of grass and tarmac, without any soreness. Another fabulous and unexpected benefit of Farriers Favourite has been the splendid coat condition my horse has developed, almost as soon as we started the supplement. He truly does have a most wonderful shine! . . . I realise that such a thoroughly researched amalgam of ingredients are supporting his natural metabolism to create a healthy and happy horse. All this and the cost is most affordable, I am now going to buy the 365 Complete. THANK YOU FARRIER'S FAVOURITE!
Marley has had no shoes on now since January due to her not doing any work. I strongly believe that I have been able to keep her shoes off because of starting her on Farriers Favourite. Even my farrier was expecting an urgent call from me asking him to put her shoes back on. She hasn't gone lame and has had very little of her hooves breaking off. Normally in wet conditions her hooves soften and break off. This has been a longstanding problem with her. She has four white hooves and a problem with her white line. I have tried many products both orally and topically over the last 16 years ... none of those products have proven to be as successful as yours.
Just letting you know Farriers Favourite has helped our horses feet very quickly as they were in poor condition coming from Holland. They were stabled almost all the time so there feet were very soft and flakey. Within 2 months we noticed a BIG difference even our farrier commented about how fast they have been growing. I will certainly be recommending Farriers Favourite to anyone whose horses have problem feet"
Hi I just purchased my 3rd tub of this and I want to say that I think this stuff is absolutely bloody marvellous! My horse had very bad cracks in her hooves, she is now very sound and she has the best quality hooves on the yard, Hard and strong and I now ride her without any shoes. Many thanks.
Product Reviews
Customer reviews of Farriers Favourite
I am a fully qualified Equine Podiatrist looking after horses feet, most of which are shoe less. I see many problems as you may expect, and the key to keeping a shoeless horse is a proper trim designed for the shoe less hoof and a good balanced diet providing the correct nutrients. I have tried the rest as part of looking after my own horses, but Farriers Favourite is the best I have found, with visible results within a few months.
Farriers Favourite has exceeded all my expectations. Firstly my horse will eat it and secondly it has contributed to the repair of soft soles on the front. Now going into the second large pot, and my farrier is pleased that it is backing up his treatment. EA were so helpful when I phoned, thank you very, very much
I have a shetland pony that had suffered intermittent laminitis over an 18 month period. Despite doing everything by the book we could not get him comfortable. We made him a woodchip paddock, fed him on soaked hay and a small amount of light chaff and lo-cal balancer. I had regular farrier visits and had his feet xrayed twice. I even spent £178 on hoof boots for him (they did help). The vet said that his pedal bones hadn't rotated or sunk but that he did have very thin soles so as I'm already a fan of the Equine Answers supplements I decided to try the Farriers Favourite. Duke has now been on the supplement for around a year. His feet are amazing, he hasn't had any bute in 8 months and he's back in a small grass paddock and is sound! It's a fantastic product that has helped when we had all but given up hope. My farrier now recommends it to his clients because he can't believe the difference it's made. Thank you Equine Answers for another fantastic supplement, you've literally saved our ponies life!
Please log in to leave a review.